Starting, running and growing a business can often be an all-consuming responsibility. From developing the brand and hiring and managing staff to marketing and selling your products and services … there's a lot to juggle and oversee!
While key positions clearly belong in-house, delegating certain functions or activities to external sources can be a wise and quite effective business choice. A perfect example is brand development and marketing. More and more companies are looking to marketing agencies as a practical and attractive alternative to an internal team or as an enhancement to their internal efforts.
Curious whether outsourcing your marketing makes sense for your business? Here are 6 benefits to consider …
Having the input of a professional with an unbiased and objective viewpoint is imperative for business success and growth. As a business owner, director or manager, you're often too close to the situation, making it difficult to gain a broader perspective or see things from your customers' or targets' standpoint. An objective outsider can provide invaluable insight for developing marketing communications tactics that resonate with your audience and help garner the desired results.
An external agency can bring original approaches, unconventional ideas, and strategic discernment to the table. Drawing on their creative vision, seasoned know-how, and best practices, they can propose innovative tactics and solutions that may have never come to light otherwise. They can be a breath of fresh air and offer a new angle, spin or direction that can surprise you – in a good way!
There are real financial savings to be realized when contracting out your marketing – giving a welcome boost to your bottom line. If the idea of only having to pay for the services you need when you need them sounds appealing to you, here are some additional advantages to outsourcing:
Greater return on investment due to a wider pool of expertise
Accelerated business growth due to an expansion of available resources
Reduction in overall employee expenses: salaries, benefits, training
Lowered overhead costs due to reduced physical space requirements
Eliminated equipment, software and subscription expenses
Enhanced marketing budget and initiatives due to freed-up funds
Greater control and management over expenses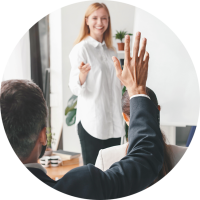 With a contracted marketing partner, you get the best of both worlds: a wealth of skills, knowledge and expertise combined with the financial advantages and efficiency that outsourcing affords. An agency brings a broad scope of service offerings and diverse experiences, allowing you to leverage those capabilities when and as you need them.
It would be difficult to harness such specialized talent cost-effectively in-house, so hiring out is a prudent investment in your business's future. Having such resources available to you also allows you to quickly and seamlessly scale your marketing efforts when the time comes.
You may have great ideas and inspired marketing strategies but simply don't have the time, knowledge or resources to develop and implement them. Or you might offer unmatched products or services but don't know the best way to market them in order to reach the ideal audience.
By partnering with a marketing agency, you have at your disposal professionals who have devoted their entire careers to building and honing their skills, staying abreast of all of the latest trends and technologies, and establishing a track record of success for their clients. They possess the time and resources to bring your vision to life through inspired tactics that serve to open new doors and take your business to new heights.
Outsourcing your marketing to a trusted professional frees you up to focus on the real task at hand – running and growing your business. You'll no longer have to be bogged down with day-to-day marketing planning and challenges and can set your sights on the bigger picture of greater ROI and a healthier bottom line.
Looking to outsource your marketing?
If you're looking for a seasoned professional to help build and promote your brand, Sharper Creative is here to help. We specialize in brand development and marketing and welcome the chance to help your business grow and thrive.