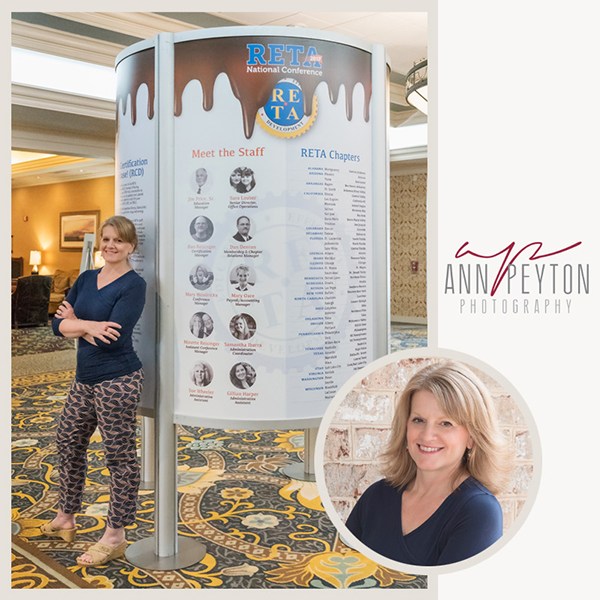 Recently, I was fortunate to get some new photography of the signage we created for RETA's 2017 Annual Conference. The destination was Hershey, Pa., which was only a short commute from my office. I took a few hours off and headed to chocolate country.
The conference was held at the Hershey Lodge, a beautiful venue with 100,000 square feet of meeting space. The common areas are lovely and well suited to showcase the large-format signage, banners and kiosk graphics we designed.
Having previously worked with Ann Peyton at Ann Peyton Photography on a client project, I hired her to shoot our work.
I also asked Ann to take professional headshots of me while we were there. I knew the grounds at the Hershey Lodge would be lush, and I wanted natural light with warm tones. Shooting outside was an obvious choice, as long as the weather cooperated. I also wanted the final shot to be friendly and professional yet reflect my easygoing personality and the stress-free services we provide. In preparation, I sent Ann sample shots of what I was looking for and conveyed my vision.
Fortunately, the stars aligned, and we were blessed with an absolutely perfect day with lots of sunshine, and there were various backdrops to use, from the brick building to the lush greenery. Ann made me feel comfortable, and it didn't take long to get into a flow. After a wardrobe and hairstyle change, we wrapped up in less than an hour. I am very pleased with the final images she captured of me. They're exactly what I was hoping for.
Thank you, Ann, for doing a great job updating my professional image – I'm now even more proud to be the friendly face behind Conference Creative.
Ann Peyton is located in Harrisburg, Pa., and can be reached at 717-329-6301. Her LinkedIn profile is here.
Tips for a Great Headshot
Here are some basic guidelines that I share with clients who want to update their professional headshot. Be sure to talk to your photographer too, as they are the experts.
If your organization doesn't have standards in place, search for headshot images online and share the ones you like with your photographer. Looking at examples can give you ideas for location, lighting, wardrobe and more.
If your office isn't conducive for your needs, there are probably some local businesses or public spaces that you can "borrow" for your shot. (Just make sure to ask for permission first.)
Don't go crazy with patterns and super bright colors. Solid clothes work best, in my opinion, and help keep your photo from becoming dated. While we all have good intentions to keep our profiles updated, scheduling ourselves to be photographed is probably never at the top of the list.
Take into consideration your profession, goals, personal style and company culture, and dress appropriately. I didn't feel it was necessary to wear a suit for my photo; a professional yet slightly more casual look was my goal.
PRO DESIGNER TIP: Consider multiple uses. If there is a chance you'll use an image of yourself in a website banner, advertisement or other marketing piece, get shots with A LOT of background! Images can be shot with extra background on any and all sides. A photo can easily be cropped, but it's much harder to add to an image if, for example, you want a horizontal banner to feature on a website. We did just that for a client in Michigan. I wanted the ability to use the client photos in a horizontal fashion on his website (shown below). While this photo can easily be cropped for traditional headshot applications, I have the option of using it in other design layouts as well. On the same day, we also took photos using a more traditional, solid-colored backdrop. This allowed for even more options when marketing our client's personal brand.
A little pre-planning and clear communication will help you end up with a profile picture you'll love. Your photographer may have more tips and tricks, so be sure to discuss your needs with them. Then get a good night's sleep, smartly dress and smile!