When it comes to visual identity for any company's brand, basic elements work hand in hand to establish a rich design aesthetic. From a brand's logo and color palette to its font selection and imagery, each component is fundamental and helps to set the direction, look and feel for all marketing and communications initiatives – including website design, social media posts, advertising, and so much more.
Establishing a brand and creating its visual identity through the use of graphic design is a must for anyone wanting to do business in today's crowded marketplace. Let's dig in and find out how graphic design and brand design work together to create a brand identity.
Graphic design is the art and practice of creating visual content to communicate information or messages to a specific audience. It involves the use of typography, imagery, color and layout to create a visual representation of an idea, product or service. 
Graphic design can be used in various applications, including advertising, packaging, signage, websites, and more. A successful graphic design should be visually appealing, clear, and effective in communicating the desired message to the target audience. It requires a combination of creativity, technical skills, and knowledge of design principles and software tools to create designs that support business and marketing goals.
Brand design is the process of developing a brand's identity – creating the visual and aesthetic components that make it instantly recognizable. These design elements can be applied across various mediums to communicate the brand's mission, values and personality.
Brand design uses all aspects of graphic design to establish a distinctive look and feel that's exclusively your brand. Apple, Google, Amazon, and Coca-Cola are examples of global brands with strong visual identities. But it's not only big brands with big budgets that need a visual identity. Any business that wants to succeed in a highly competitive marketplace needs a brand identity.
And not just any identity will do. It must be the right identity for your brand. This can only be achieved through careful evaluation and application of the following: 
Feel and tone

Color palette

Fonts

Photography style

Illustration style

Icon sets

Textures and patterns
Brand design takes careful thought and consideration to ensure that all elements work together cohesively to establish a brand identity that's distinguished from the competition. A graphic designer can make this look easy and seamless, but that only comes with skill and experience.
Once the brand design process is complete, you should have a system of design elements that make up your brand identity. At a minimum, this should include a logo, color palette, and font selection. Additionally, you could define styles for photography, textures, patterns, gradients, icon sets and more.
Together, these elements form a brand's style guide, which defines how, when and where to use each element. A style guide is helpful when sharing your brand assets with those vendors developing your sales, marketing, event or social media graphics. This helps to ensure consistency, no matter who is working on them.
Without the process of graphic design and brand design, a brand can't really be brought to life, at least in a tangible, visual way that people can connect with in social media, collateral or other marketing avenues. A brand without an identity is merely a thought or concept in someone's mind.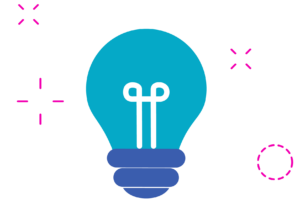 Why is brand identity important?
Brand identity is the result of brand design work. It's the visual representation of your brand through a collection of graphic elements designed to communicate and support your brand and voice. Once you have defined and designed this graphic-rich ecosystem of elements for your brand identity, it's extremely important to be consistent.
Here are 6 reasons why brand identity is so important
Shows your brand's personality

Establishes consistency across touchpoints

Differentiates your business from the competition

Sets your products/services apart from similar ones

Builds brand awareness, trust and authority

Conveys stability and says, "I'm here to stay."
Having this creative ecosystem in place makes adding additional graphic components much easier because you've already established a roadmap. Be careful not to use design assets or marketing styles outside of your graphic style, as they will dilute your brand identity and cause confusion in the marketplace.
Where to use brand identity?
The simple answer is "EVERYWHERE." Every touchpoint you make with your consumers and audience should be branded with your identity. From email signatures to billboards, every communication should be dripping with your brand identity!
Use your established branding on:
Websites

Social media graphics

Email banners and templates

Letterhead

One-pagers

Brochures

Business cards

And any other touchpoints or marketing communications
How much does it cost to create a brand identity?
That depends. The process of establishing a brand identity can be complex or more simplified depending on the size of your organization, your budget, and goals. For larger organizations, it can take months and is done in conjunction with developing an overall brand. Smaller companies or those just starting out might begin with a few assets like a logo, color palette, and pattern that can be used across various media. The cost, of course, will align with the size of the identity project and the experience and skill of the designer you hire.
If you don't have a graphic designer on your team, consider outsourcing this work to a professional. Having an expert by your side will help ensure compelling, on-brand graphic design. Sharper Creative specializes in brand and graphic design services – and offers a deep understanding of how the two can work together to create a memorable visual identity.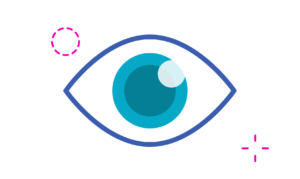 Work with an expert who understands the value of brand identity.
At Sharper Creative, we work with businesses and organizations to create a brand identity that captures and supports the overall brand. Our team is here to help you develop your visual voice, solidify your brand, and create beautiful, impactful designs that further your brand's mission and goals – and bottom line. Contact us today to learn more.