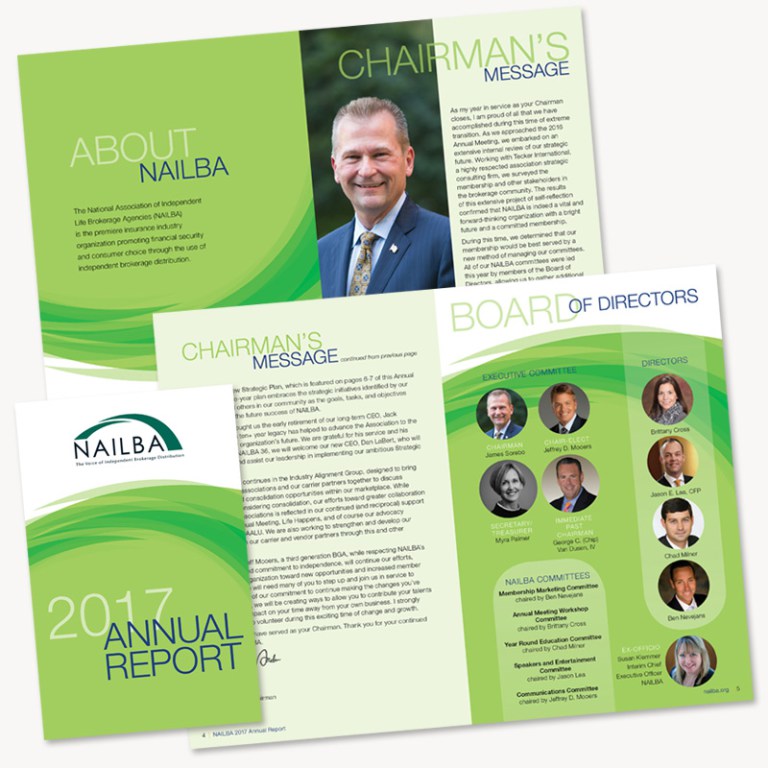 Taking a leap of faith.
When unexpected challenges arose just a few weeks away from their annual meeting, NAILBA called on us to help with their annual report.
Working with the interim CEO (at the time), Susan Klemmer, we jumped in, followed brand guidelines, and sent Susan a few pages of the creative direction, which she quickly approved. We created a beautiful little annual report with plenty of time to spare. With literally one small text edit, the document was finalized and sent off for production!
Not having worked with us before, Susan did have to take a leap of faith, as does any new client embarking on a project with a new vendor. But, we aim to impress and Susan was pleased. "I can't tell you how much I appreciate you jumping in, matching our style, and pulling this off in one try. Amazing!"
You are more than welcome Susan. It was a pleasure. With more projects coming up, we hope to work with her amazing team again.
Stress-Free Peace of Mind
Even if you have a dedicated in-house design team to produce your marketing communications and event collateral, we're guessing there's always more work that needs to be done. If you or your team are strapped for time, have staff out on leave, need an extra pair of hands, or just want a fresh perspective – let us help.
As specialists in producing graphic strategies, concepts and collateral, we ensure that all of your materials are professionally designed, readable, and appropriate based on the scope, goals and objectives at hand. We will follow brand guidelines and creative direction that you share – or we can help develop it. We'll supply files in a whatever format you need so they are on point and ready for production.
As Susan experienced firsthand, our expertise provides stress-free peace of mind, so you can focus on other pressing tasks.
If you need an extra pair of creative hands, just reach out.